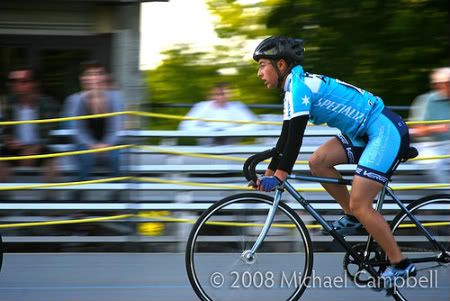 Sarah Lu works in public radio, dabbles in queer organizing, and races bikes.
In 2009, I decided to take the leap from being a bike commuter to a bike racer, too. I figured that the 100 or so miles I rode a week as part of my commute was pretty much all I needed to start showing up at races and kickin' ass. Turns out, that was more than a little naive. I definitely didn't kick ass in 2009. But, I didn't exactly get my ass handed to me, either. During the track and cyclocross seasons, I generally didn't come in last, and I managed not to break my face. Here are some pivotal moments of my inaugural racing season:
1.) Getting myself a USAC license. To do clinics at the track and participate in official races, you need one of those. All the rights and privileges that go along with it are sweet, too. Like being officially ranked amongst other licensed riders. I just checked, and I'm ranked 260th in women's cat 4 cyclocross standings in the U.S. Not 259th, not 261st, 260th.
2.) Joining Half-Acre. Being on a team sponsored by a beer company–where folks take riding bikes as seriously as they do appreciating beer–turned out to be a good fit. I like the balance. Neither pursuit is taken too seriously, and both allow me to appreciate the other on a level I might not otherwise. Which is to say drinking beer keeps the turning-yourself-inside-out-all-the-time-in-workouts-and-being-really-self-righteous aspect of serious cycling in check, and riding bikes and not wanting to finish last or break my face in races keeps my propensity towards excessive drinking in check. Also, the best tasting beer is the one you drink after racing your heart out. I'll be with Half-Acre again in 2010.
3.) Finding a wee track bike that fits me. Fuji makes a model with smaller, 650c wheels that suits kids and the less-than-tall adult. Buying this rig brought my bike tally to two. My commuter bike, and my track bike, both fixies.
4.) Realizing I couldn't hang with the team rides with fixed gear bikes, I had to get me one of them fancy road bikes with gears and all that business. My teammate Julie Popper let me know that an acquaintance in Minneapolis was selling a sweet tiny road bike for super cheap. The person selling it wanted it to go to a teeny lady who would ride the heck out of it, like a cash-strapped racing newbie. Hey, that's me! 822 miles of driving and 300 bucks later, I was back in Chicago with a sweet, rare, extra small road rig. Bike tally up to 3. When I move on to other bikes and have to sell part of my fleet, I'm also going to value supporting an entry level, teeny lady rider over getting the most dollars I can out of the sale. The less than tall ladies gots to stick together.
5.) Racing opening night at the Ed Rudolph Velodrome in Northbrook. I didn't come in last or break my face. Nuff said.
6.) Keirin Racing. Twice during the track season, I got to race Keirin. Keirin races are motor-paced. ( Sidebar: The dude who rode the motorcycle and paced us out in Northbrook had this sweet 90s style white helmet, kind of making him look like a storm trooper from Star Wars. It was awesome.) Both times, I lucked into a low lot number and was able to get right into the sweet spot directly behind the motorbike (the draft is the best there… So lucky!) Both times, after leading the race, I got passed by almost everybody in the last couple feet or so (unlucky). Sucky as that aspect was, Keirin racing was a change-up from the longish and kind of boring 25 lap points and scratch races that became standard at Northbrook this summer.
7.) Training for cyclocross. After scoring a kids' cyclocross bike (bike tally up to 4) I trained with an assortment of fellow 'cross newbs. Cyclocross involves a lot of tricky elements like dismounting your bike, jumping over barriers, and remounting your bike, as well as running up really steep hills, so nailing down those skills is crucial. I had a blast training with my fellow Half-Acre ladies as well as my work bro. We'd gather in parks, jump over obstacles, corner trees, and run up hills with our bikes on our shoulders. Some mornings, my work bro and I would work it til we felt like we would vom, and then go to work. (And sometimes make a detour to get eggs and pancakes. Got to refuel, cuz you can't go into morning meetings hungry…)
8.)  Half-Acre Women Cyclist Night. In Chicago, the number of ladies who line up for races is disproportionately small compared to the number of ladies who like riding bikes. While the reasons for that are many, varied, and complex, there is at least one factor–that a lot of ladies interested in racing don't know any other lady racers and don't know where to find out about getting started in racing–Half-Acre, as a team, can address that. At the now-open-to-the-public Half-Acre brewery, we hosted a mixer for women cyclists, from the average Jane commuter to racing pros. There were lots of introductions, many questions about racing, many answers to those questions, and for this kid, several beers consumed without eating dinner first. After this event, the ranks of women on Half-Acre doubled. I might just line up at track races in 2010 with teammates. Wowza! [You can inquire about women's membership at hello(((@))) halfacrecycling.org]
9.) The sand pit at the Northbrook CX race. Watching the races before mine, I saw a lot of burly riders tackle this section and nail it, and I saw many riders go down in the sand. Because I crashed each time I tried it during my pre-ride of the course, I went into the race thinking I would get off my bike and run that section, because I was just not burly enough to handle it. Sure, running is a bit slower than riding, but at least I wouldn't run the risk of face planting into wood and sand. But when I got to that section during my race, perhaps because my whole team was standing right next to the pit and egging me on, I just went for it–and somehow rocked it. I went on to finish this race in the top half. Woohoo–personal best.
10.) Pedal with a Purpose. As my inaugural season wound down, I started making preparations for next year. I did all right with my commuting to work and sometimes going all out 'til I vomed in my mouth a little bit training regimen, but next year, I want to do better than all right. Good thing there's a program for folks like me–Kristen Meshberg's Pedal with a Purpose program. I've already started, 'building a base' of fitness for the 2010 season, along with 10 or so teammates and lots and lots of Chi-area ladies. Picture a warehouse-space full of cyclists with trainers hooked up to their road bikes spinning it out, watching racing videos and listening to electronic music. Races in the summer are won in the winter, so they say.