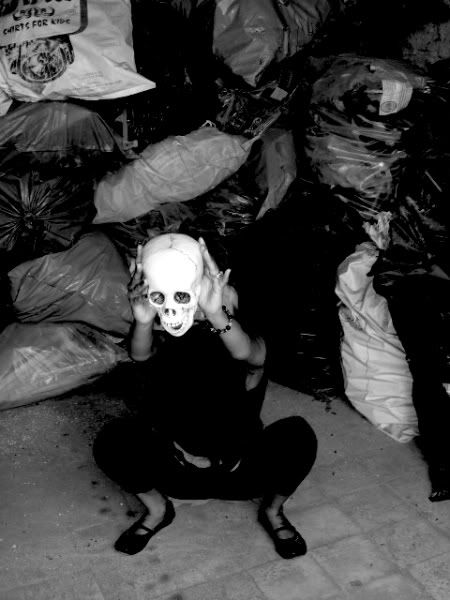 When I interviewed Adam Rose for TPR, I was left with the impression that his performances are a genuine reaction to the world around him, and the dark forces channelled through Antibody Dance, his dance company, are very real to him. A rejection of irony from a young, engaging artist is like a cool, tall boy on a hot day, and (I've said it before) Chicago is blessed to have him. In person and out of costume, Rose is gentle with a shy brow, and it goes without saying that someone serving anti-christ realness in a jet-black bob and tights has my undivided attention. Antibody's latest, Vaca Sacra (Sacred Cow), was premiered in Mexico this winter, this will be Chicago's first opportunity to see it. From the press release:
Vaca Sacra is a work for three dancers who embody a nun, a cowboy, and a businessman. The sound design and choreography steal elements from Mexican and American culture to describe neither, instead creating a separate world from distorted fragments of each. The result is something like a southwest noir. The Antibody mirrors processes of cultural exchange and fragmentation initiated by the global market, devouring cultures in order to feed itself. In this destructive and creative process, occult connections emerge, between Hollywood and Bollywood, Christianity and cannibalism, Baroque master/slave relationships and contemporary politics.
Titty Perkins, Silvita Diaz Brown, Lisa Frank, Aisha Bell, Craig Donavin and Ishtar Bukkake are also on the bill. The April showing will be at The Op Shop, 1530 E. 53rd Street, on Friday, April 23rd, at 7pm.