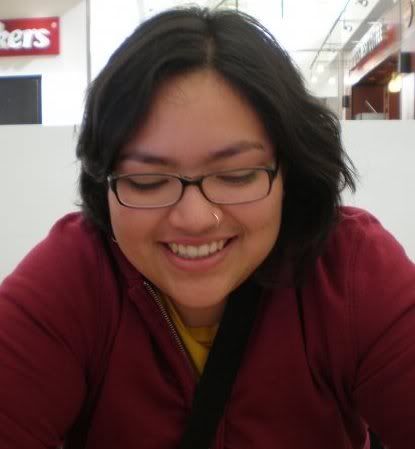 Tania Unzueta is a queer, Latina immigrant rights activist living in Chicago. She works at 90.5 FM WRTE, as director of their journalism and digital media training program, and as producer of Sin Papeles, a Spanish-language radio show on immigration issues. She is also a member of the Chicago Dyke March Collective, and the Immigrant Youth Justice League. This list was written in collaboration with Rigo Padilla.
Immigrants are not out to steal your identity, supreme court rules.
It costs $300-500 dollars to get a social security number on the street, according to my sources. Some times it's a card with a number made up on the spot, a phone number backwards. Some people don't have to go to the street and can "borrow" the cousin's number for example. Often, when the number does belong to an actual person, immigrants themselves may have no idea. After an immigration raid on May of 2008 in Postville, Iowa 270 people were charged with aggravated identity theft. People spoke out, and as a result on February 25th, 2009 the U.S. Supreme Court said no more. They decided that when the law says that identity theft is when a person "knowingly transfers, possesses, or uses, without lawful authority, a means of identification of another person," the term "another person" must actually mean another person. One more step towards not criminalizing immigrants.
It is not ok to beat an immigrant to death, even if undocumented, turns out
On May 1st Brandon Piekarsky, 17, and Derrick Donchak, 19, of Shenandoah, Pennsylvania were found not guilty by an all-white jury connected to the beating death of Luis Ramirez in the summer of 2008. These two young people killed Ramirez as they insulted him using racial, and anti-immigrant slurs. The Latino community was outraged at the lack of accountability from the local courts, who declared Piekardsy and Donchak guilty of simple assault. But on December 15th, the U.S. Department of Justice announced that a federal grand jury indicted both of the attackers with committing a federal hate crime, and accused the Shenandoah Police Chief and the Lieutenant of "conspiring to obstruct ustice during the investigation." Still waiting to see what this indictment will result in, but it's good to hear that there is some accountability even at the federal government, particularly as hate crimes against Latinos and immigrants or perceived immigrants, are on the rise.
No more "No-Match"
No-Match letters were mailed to let the employees and employers know that there was a discrepancy between records of the Social Security Administration (SSA), and the information the employee provided. There was time to fix it, it may be a misspelling, or a change of last name or a change of gender. But what often happened instead in the immigrant community was that employers began to assume that letters meant undocumented, and some times being right, would use them to threaten workers when they would express a desire to unionize or complained about labor practices. In July DHS announced that it would stop sending these letters, and instead focus on E-verify.
E-verify has lots of E-rrors
On September 8th it became official that the DHS would begin requiring companies that have contracts with the federal government to use this E-verify. These companies have to enter the potential hire into a database connected to the SSA and DHS, and find out whether they are eligible to work or not. It's biggest flaw: that 17.8 million of the SSA's records have errors, and that 12.7 of those relate to U.S. citizens.
Crossing the border under Obama
The number of deaths at the U.S./ Mexico border  have increased under President Barack Obama's administration. So have deportations and separation of families. Local enforcement of immigration laws that are detrimental to undocumented immigrants and their families have also increased. Some of us are still hoping that this is part of a sort of warped strategy: Enforcement first, just so that we can get legalization later. We'll see… for now, we should keep up the pressure.
Basta Dobbs!
On November 11th then CNN anchor Lou Dobbs announced that he was leaving the network. Turns out CNN payed out his contract for $8 million, because of his "advocacy reporting" specifically on immigration. If you try not to think about the $8 million, you may be able to appreciate that in part this had to do with community mobilization. The network had been receiving pressure from organizations through the BastaDobbs.com campaign, which had started in September. After the announcement the campaign said "Our contention all along was that Lou Dobbs – who has a long record of spreading lies and conspiracy theories about immigrants and Latinos – does not belong on the 'Most Trusted Name in News…' We are thrilled that Dobbs no longer has this legitimate platform from which to incite fear and hate.
It is now okay to say "undocumented" in the court room
On December 08th, Justice Sonia Sotomayor wrote: "the company employed undocumented immigrants." And she continued using "undocumented" throughout the decision. It's the first time that the word is used within the U.S. Supreme Court, compared to12 other times for "illegal immigrant." People are not illegal. They have or don't have documents. Using the word "illegal" is just not cool, but Justice Sonia Sotomayor is.
Youth mobilize against deportations
University of Illinois at Chicago Student Rigo Padilla succeeded in deferring his deportation for a year, as of December 10th. That was a really big deal for the immigrant rights community, and of personal significance (in the interest of full disclosure I should say that I was a bit involved in his campaign, as he happened to be a journalism student at Radio Arte). This connects to a national movement of undocumented youth leading mobilizations like this one. At a local level, I have been able to see what I consider a revitalization of the youth immigrant rights movement in Chicago that first began to mobilize for Rigo, and has continued to continue fighting for immigrant students, and in favor of a just immigration reform. This group has developed into the Immigrant Youth Justice League, with a vision to become the organizing hub for undocumented youth organizing in Chicago. You will be hearing more from IYJL. Notably, this was also the first time I hear about university professors fighting for immigrant students. Perhaps a precedent to replicate.
USA Today Fail
If you visit the USA Today Article on Rigo's stay of deportation, it now reads "Groups try to delay deportations of illegal immigrant students." A few days ago, the word "immigrant" was not there, and it read: "… illegal students." This small change is the result of the mobilization of students from the national DreamActivist.Org network, who began asking "What the heck is an illegal student?" . They have responded with a campaign and website focused on the use of the word "illegal" by the mainstream media. At the time I'm writing this blog, USA Today has not issued a statement about the change in the headline of the story, and students have said they will refuse to give interviews to people who use the word "illegal." This an escalation to the continuing fight to have immigrants be treated and labeled as people on the media, and you should look out for developments.
CIR ASAP!
And as the year comes to an end, on December 16th Illinois Congressman Luis Gutierrez introduced the Comprehensive Immigration Reform for America's Security and Prosperity Act, also known as H.R. 4321 or CIR ASAP. I should say that many immigrant rights activists, including myself, dislike the emphasis on border security and enforcement, but applaud the legalization option, as well as other provisions: protections of workers, the end of the 287g program, for example. The next months are going to see the debate get intense. On the side of immigrant rights activists, I think that what we must remember is that we are all on the same side: seeking just living conditions for all, and for this we need to support legalization. The proposal has been introduced, but it will be up to people to pressure our legislative officials to pass it. We're living in times that will make history, and each one of us should think about what role we want to play in this struggle.