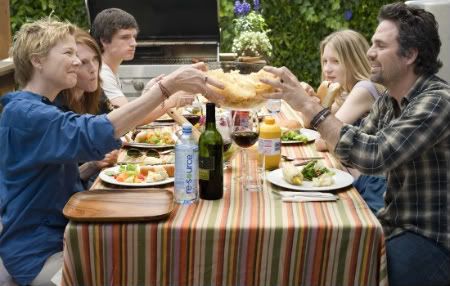 The Kids Are All Right, a movie about a privileged suburban family headed by two women, is a visible new entry into queer film history. Mostly, I'm glad it's there–you have two A-listers playing a lesbian couple raising a family, and as such it deserves all the attention it's getting. "Why can't they get actual lesbian actors to play 0n-camera lesbians?," "Why was their sole sex scene so polite?," "Why does the femme always have to cheat with a dude?,"and "Why wasn't Nic more butch?," are valid questions, but I'm putting them aside for what I think is a much larger problem. I've been calling this movie "The Kids Are Alwight" because the film has three non-white characters, and each one of them is treated as "less than." It's not something that I'm concerned about because of its mere presence in the film, my problem comes from how its dealt with–it's not. The racial issues that TKAA brings to the table are left there, cold and unattended to, and that's not only irresponsible, it's an unfortunate hint that writer Lisa Cholodenko is also a privileged white person that doesn't want to or doesn't know how to deal with race. It's not her responsibility to absolve us or guide us through our own ties to inequality, but if you're serving up racial undertones, medium-rare is a bloody mess.
Juxtaposed against the success that Cholodenko had in creating fully realized, complicated personalities, the three non-whites and their problematic plot lines are straight forward, in my opinion. Daughter Joni's love interest, Jai is used as a sex object, Paul dumps his friend-with-benefits, Tanya, because he's thinking about starting a family, and Luis the gardener is fired after Jules realizes he knows about her affair. Taken as isolated incidents, each of these scenarios is complicated enough that you wouldn't have to read racial inequality into it. However, because Jai, Tanya and Luis are all brown and they all get the shaft from the white main characters, the issue of race can't be ignored.
Jai as a sex object–of the three, this story line is the least charged for me but still relevant due to the presence of the other two. Jai and Joni are just friends, but their relationship is filled with sexual tension, and he's obviously interested. The awkward non-commitment from Joni could be seen as hesitation due to his race and it's not until she's drunk and about to leave for college that she goes for it. The way she kisses him without saying much and then abandons the situation is very objectifying. On its own, this doesn't have to be about his skin color, but this occurrence is the most minor of an alarming pattern in TKAA. 
Paul's friend-with-benefits, Tanya is a younger hottie obviously disappointed when Paul dumps her because he's thinking about "starting a family." Why can't he start one with her? It could be their age difference, but again–she's one of three non-whites in the movie and she's treated as less than. Paul is a douche, let's be honest. His character is an immature guy who loves a thrill (motorcycles, filming the skateboarding, bagging a lez, etc). He's an environmentalist and sustainable farmer, but a player and a douche for sure. His disinterest in Tanya as a long-term partner isn't explained more than with a simple statement about "getting serious," and since we know he's betting on Jules,  he's not exactly basing his decision on Jules' stability. He found something that's only better because its whiter. 
Finally, Luis the gardener is fired after Jules realizes he knows about her affair. This was pretty shocking for me, mostly because it was so sudden, but also because it was presented with all kinds of tension and unspoken slants. Until I read Holly Hughes's note, I hadn't noticed that at the moment Jules realizes she's been caught, in her panic she interprets Luis's pause as him leering at her in a suggestive way. When she asks him, "What's that face?," his expression changes to that of confusion. Their language barrier, coupled with all the fast-paced regret, prop this vignet up as the movie's powerful and realistic slice of human complexity. However, Jules never apologizes or corrects her mistake, leaving the impression that his livelihood is not worth as much as hers, but also that it doesn't matter. This exchange and its implications are the most heated and questionable loose threads in Cholodenko's flimsy handling of her story's racial inequality.
I don't think mainstream depictions of queer life MUST resemble my ultra-left ideal. I mean, it'd be nice but I'm not holding my breath. I'm still glad this movie was made and has gotten so much attention–the overt message of The Kids Are All Right is that we are all complicated people making tough decisions all the damn time. At its best, Cholodenko coaxed brilliant performances from most of her cast. However at its most disappointing, TKAA brings up very plausible, racially-charged afterthoughts without exploring them enough to justify their presence. Leaving these sub-plots unresolved only HINTS where it should DECLARE that these racist detachments happen every day, and they are examples of  our modern age's willingness to overlook a certain amount of unspoken discrimination. Could their inclusion be intentional? Sadly, I don't think this is a case of something being shown as a self-evident injustice. This movie was made to teach and preach about the many ways family life is hard; Cholodenko obviously won't lose the chance to illustrate a lesson.  The things that happened to Jai, Tanya and Luis are the kinds of passing and accepted ways privileged classes step on people of color, and it's unfortunate that these slights were included AND ignored in an otherwise competent film.