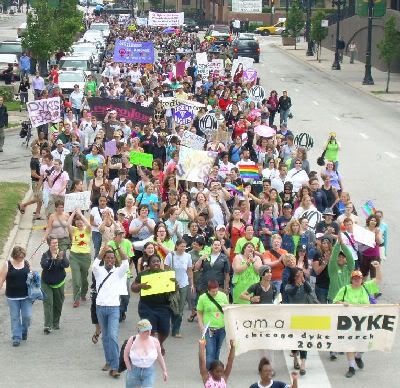 After two successful (and historic) years in Pilsen, Dyke March Chicago is set to move to a different neighborhood. A controversial decision to get out of just one Northiside area in 2008, DMC found a supportive environment to deliver its direct-action to other parts of the city. Happening the day before the Pride Parade, the annual march's protest and non-commercial roots are a necessary part of celebrating Pride Weekend–wherein the Pride Parade can be overrun with coorporations looking to advertise, the Dyke March is about reaching out to people in and out of our communities with a respectful yet undeniable presence.
There are two upcoming gatherings to discuss the location of Dyke March Chicago for 2010. The organizers, now calling themselves Chicago Dyke March Collective, are meeting at Back Story Cafe, 6100 S. Blackstone on Thursday January 21st at 6:00pm. The purpose of this meet and greet is to participate in an open conversation about what the march is, how we organize, the process of picking a location, how you can participate, and meet past and current organizers! Whether you are interested in helping organize the march march or just want to join the conversation and show your support, please come!
There will also be a community forum where we will take comments, evaluate the work that has been done, and collectively decide where we will be marching in 2010 and 2011. on February 4th, 7 pm at Affinity Community Services located at 5650 South Woodlawn Avenue.
Please invite other community members who may be interested. Please RSVP on FB or to dykemarchchicago(((@)))gmail.com.