Most Original New Series: Chew, Image Comics. By John Layman and Rob Guillory
With a plethora of recycled been-there-done-that concepts floating around, Chew was a refreshingly original and innovative Indie comic that came along this year. The book focuses on a detective who gets psychic impressions from whatever he eats (think dead bodies at crime scenes). Clever writing ensues and brings in everything from the FDA to a mysterious chicken-like fruit! All this craziness alone could be the driving force of the comic, but with the added silliness, strangeness, and energetic artwork this book was definitely a nice surprise in the cereal box of comics.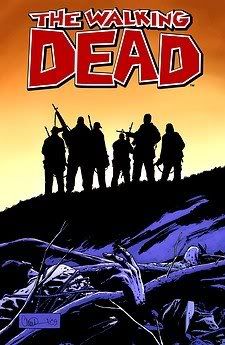 Best Zombie Comic: Walking Dead, Image Comics.  Art by  CHARLIE ADLARD & CLIFF RATHBURN Walking Dead continues to serve suspense, strong characterization, and unexpected jaw-dropping twists in a world overrun by the living dead. Each year this comic just gets better and better! George Romero is either hating it or luving!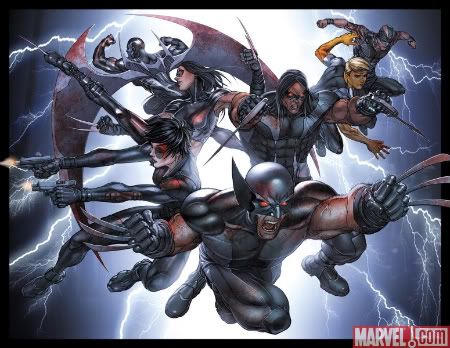 Best Bad Ass Comic: X-Force, Marvel. Art by Mike Choi
It's X-Men, black ops style. These mutants dont play! They handle their biznazz for realz! This book is definitely not for the squeamish! X-Force are the cousins u always wished u had to call and handle that annoying neighbor.

 
Best Cover: Flash Re-birth, DC. Art by Ethan Van Sciver
It's the amalgamation of the awesome electric lightning-like pencils (pun intended) by Ethan Van Sciver  and the nostalgia of the return of the legend that is Barry Allen that puts this cover at the top of my list. 

 
Best Ongoing Series: Batman and Robin, DC. Cover by Frank Quitely
Batman's death gave way to some creative story this year which included secondary bat-characters taking the spotlight. Under the creative care of team supremes Grant Morrison with artists Frank Quitely and Phillip Tan, Batman and Robin outshined most. In the revamped book, the original Robin Dick Grayson starred as Batman, and Bruce Wayne's son Damian starred as Robin. Throughout the series Damian behaves like the obnoxious punk teen that he is, while Dick struggled with the heavy responsibility that wearing the cowl brings. Batman and Robin were now these relatable characters and not just these iconic untouchable heroes that they have usually been portrayed as. Each month, we watched this unlikely duo become tighter partners as they battled new villains like the Circus of the Strange (eerily penciled by Frank Quitely), and former Robin, Jason Todd (which reminded us that even the Batman family has their black sheep). The family tension was intensified by Phillip Tan's dramatic style as the original Robin (Dick) and the new Robin (Damian) battled a former Robin (Jason). Twisted indeed. Grant Morrison's' offbeat storytelling gave the book a psychedelic, Twin Peaks-ish feel and Frank and Phillip complemented Grant's quirkiness amazingly. This book was a must-read month after month and doesn't look to be slowing down and deserves this homo-fanboy's vote as best series of the year!
Best Event: Blackest Night, DC. Image by Ivan Reis
It's the culmination of years of story. Showcasing the colorful rainbow spectrum of  all the Lantern Corps, from the noble Green Lanterns to the Vicious Red Lanterns, and introduces the deadly Black Lanterns (who recruit the dead). Drama drama drama spreading throughout all the DC titles! Luv it!!!!!!!!!!
 
Best Mini: War of Kings, Marvel. Cover by Brandon Peterson
It's the underdogs Inhumans waging war against the bully Shi-ar empire. Oh man, a story filled with royal families, arranged marriages, backstabbing, and revenge all set in space! A Soap Opera set among the stars! Ca'nt get any better than this, people!

 
Best Moment/#1 Cliff Hanger: Hawkman and Hawkgirl killed in Blackest Night. Art by Ivan Reis
The tragedy of the eternal love of Hawkman and Hawkgirl is enough drama but to have them both killed by their formerly dead friends Ralph and Sue who are recently resurrected Black Lanterns was clearly the most unexpected, tragic, and best moment of 2009!

Best Writer: Geoff Johns This hottie masterfully guided the DC universe and gave us the epic battle and emotional turmoil that is Blackest Night. He re-energized long-lost characters and gathered the different incarnations of the Legions while staying true to us continuity junkies. All that, and he managed to masterfully helm the return of Barry Allen without botching up the job. His love and respect for the medium attached to his amazing creativity and storytelling not only make him the ultimate fanboy but a fanboy guru to us all. He's not so bad on the eyes either. Rawwwrrrr!!!!!!!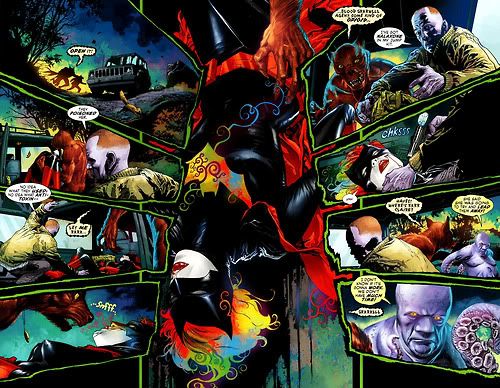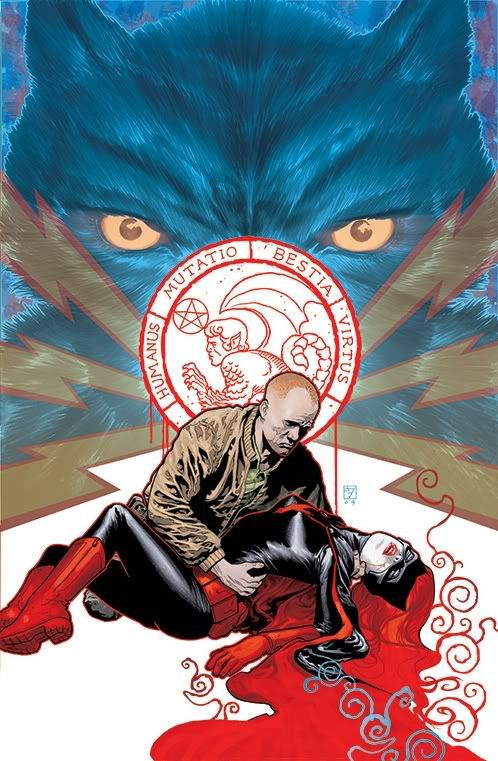 Best Artist: J. H. Williams
The proof is in the pudding people! If u havent checked out Detective Comics then you need to check yourself! Artist J.H. Williams has been serving it month after month as he pens the adventures of DC's breakthrough lesbian heroine, Batwoman. This guy oozes style and has an unbelievable eye for detail. Every panel is visually striking, whether its the interplay of Batwoman's body language and the story to the gorgeous depth and horror that he gives to the backdrop of her adventures. His work is genius and, simply said his brilliant work tells a story in and of itself.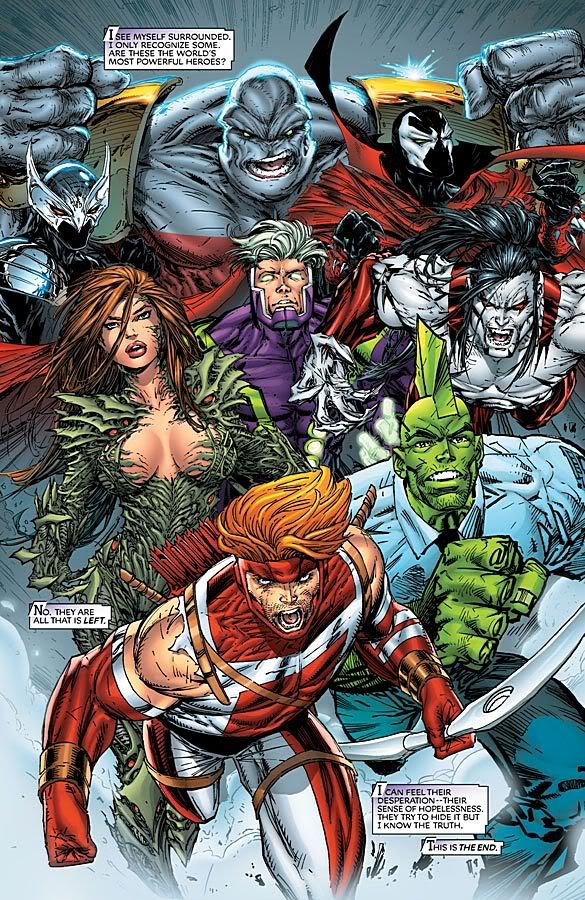 Best throwback to the nostalgia of the 90′s Comic: Image United, Art by Marc Silvestri, Jim Valentino, Todd McFarlane, Erik Larsen, Whlce Portacio, Rob Liefeld, and Robert Kirkman
Members of the original Image came together to tickle our fanboy fancy and brought us an exciting, fun and innovative project. Back in the 90′s, these creative powerhouses set the standard for creator-owned projects by leaving Marvel (while they were all at the peak of their Marvel careers as pencilers) to form Image Comics. This was a dramatic move and set the industry on fyr!!!!!!!!!! Each artist created their own characters/series, some of which are still going strong today. They have since taken more directorial roles in the company and less hands on artistic duties at Image, but haven't lost their artistic talents! Image United brings all these creators together, each pencilling their signature characters in the same story. So that means in one page, Image United can equal the artistic godliness of all the founding creators. Jaw-dropping fanboy greatness. I just floated away………
Best comic I'm embarrassed I didn't read: Asterios Polyp, art by David Mazuchelli
After some time away from the realm of comics David Mazzuchelli came back to rave reviews with Asterios Polyp. Described as a brilliant story of meditation on life, love and the meaning of art, coupled with gorgeous and purposeful interiors, this 340 page graphic novel is nestled nicely on my nightstand waiting to cuddle.
Best Character: Batwoman, DC. Art by J. H. Williams
The story of Katy Kane running around as Batwoman could've easily fallen into some cheesy bat-cliches, especially since she's always in Batman's shadow. However with Batman's death, Batwoman became the star of Detective Comics and something magical happened. Readers were treated to this fabulously fascinating flawed soldier with redeeming human qualities. She wasn't perfect and didn't always have the right answers, she simply did the best she could with what she knew. We saw the tragic past she came from and realized that unlike Batman, she didn't use that as the driving force of why she wears the bat-suit. Instead she viewed herself as a soldier (no doubt due to her father's military influence) and participated in more self-destructive behavior than anything else. Sometimes we loved her and sometimes we hated her. That "realness"is what grounded her and veered her away  from the cheesy road that many other bat-characters have followed. All that, and she just happens to be a lesbian with relationship issues! Now scheduled to to have her own title in 2010, it looks like Batwoman we'll have plenty of more misadventures and we can all merrily tag along.