The awardees for the recent cycle of the Critical Fierceness grant have been announced, and quite immediately an inspired pause overtook TPR headquarters. Riva Lehrer's cerebral process translates fully into her work–her portraits are usually the result of interviews with her subjects or deep introspection. A focus on the body and its changes in physical ability give way to an examination of limitations and empowerment presented as a see-through mirror; these drawings are as much reflection as projection. Of the two awardees, Edie Fake has been featured on TPR before – his blunt palette is far more nuanced than his primary school style suggests–the ideas are declarative, if not quite shocking. I'm excited about his map of Chicago, surely it'll have its fair share of judgemental humor, chunky psychedelia and gay-as-fuck camaraderie.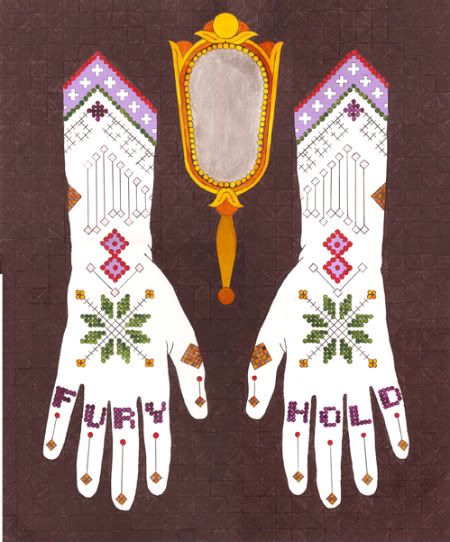 *Edie Fake – Fists of Fury
Grant Winner: Edie Fake
Proposed Project:  An experimental map of queer Chicago history (Illustrated Scroll)
Edie Fake's ambitious, amorous project, is to research, design and print a conceptual
queer heritage "map" specific to Chicago, taking the form of a long scroll-like drawing of imagery and notes.
Some of Edie's previous drawing work can be found at your local underground comic store, where his comic series
Gaylord Phoenix continues to win hearts and minds across the U.S. http://ediefake.com/

*Riva Lehrer – Zora: How I Understand
Grant Winner: Riva Lehrer
Proposed Project: A portrait of Alison Bechdel for Lehrer's series, "Totems and Familiars" (Large-Scale Charcoal Drawing)
Riva Lehrer's recent series, Totems and Familiars, explores how people use metaphors to transcend their own limitations
and re-imagine the self. Her paintings and drawings often focuses on subjects who, like herself, take a claim to both
queer and disabled communities, radicalizing the notion of which bodies are seen. Riva will complete a portrait of
queer graphic novelist Alison Bechdel (Dykes to Watch Out For, Funhome) for this series. http://rivalehrer.com/
About the Critical Fierceness Grant:
Since its founding in 2005, Chances Dances has sought to create a safe space for all gender expressions by bringing together the varied LGBTIQ communities of Chicago. The creation of the Critical Fierceness grant expands upon this goal
by offering a unique opportunity for queer artistic expression. Chicago-based individuals or groups who wish to utilize
the Critical Fierceness Grant for artistic purposes and who identify themselves or their work as queer are encouraged
to apply. Critical Fierceness supports queer artists with financial assistance of up to $500. Chances Dances is proud
to provide the Critical Fierceness Grant as an opportunity for personal exploration, community development and
radical change through art. Our next deadline is June 30th.