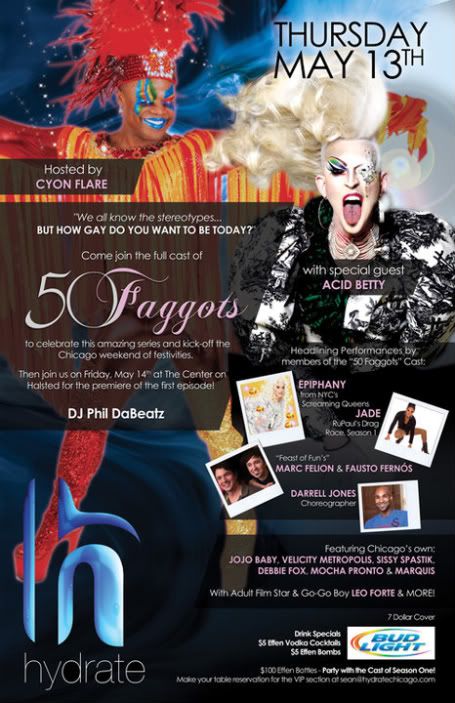 Way to reclaim it, girls! I've actually had this conversation a lot lately with my buddies Davey B and Amy Nicole about how masculinity is always prioritized in gay/queer culture. Even "edgey" pubs such as BUTT and don't showcase femme dudes flaunting their curves, and it can get a little boring. I'm still learning about 50 Faggots, but if done right, this could be really groundbreaking–I'm particularly excited about Darell Jones's contribution. The flyer above is for the benefit party at Hydrate on Thursday the 13th, there is also a screening of the first episode on Friday, May 14th at The Center on Halsted (6-10pm, $10) with cast Q&A afterwards!
 
Watch the preview over at  www.50faggots.com SO MUCH CHICAGO LOVING IT!!!!!!
From the FB group:
50 Faggots is a new, online documentary series educating, exploring and celebrating how individual effeminate gay men survive and thrive in today's American queer communities. It uses longitudinal, auto-ethnographic documentary filming and educates audiences with the unprecedented access to the lives and experiences of effeminate male activists, artists, professionals and educators perspectives rarely discussed within most cultures. The series addresses the dearth of self-acceptance among effeminate men, young and old, with humorous anecdotes, important wisdom, and inspiring models of resilience. By offering individual alternatives to dominant constructions of American masculinity and heteronormative gay lifestyles, this film illuminates the on-going issues relevant to queer communities.
The first season, located in the urban neighborhoods of Chicago, Washington D.C., and New York City, dedicates two years to documenting the stories of ten effeminate gay men. These men discuss their professional and personal lives, often in contradiction to communities that demand a rigid and binary definition of gender, particularly valuing patriarchy and an appropriate presentation of straight-acting masculinity.