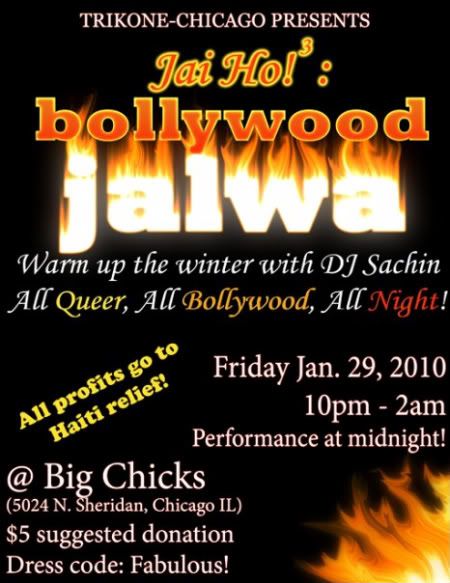 Not yet having a stable home, Trikone is set to deliver its latest installment of Jai Ho!, Chicago's only queer Bollywood dance party, on Friday January 29th.  From the Facebook Event:
Trikone is committed to creating community among LGBTQ South Asians and their allies in the Chicago metro area. We welcome people of all sexual orientations, and gender identities, and of all national, racial, religious, and ethnic backgrounds to Jai Ho!
I accidentally found myself at the first one last year in July, and I gotta say it was one of the most fun nights out I have ever had in the city. The crowd was as diverse as it gets, there was a nice spread of club/fancy/traditional/sports wear, and the music went from Bollywood show stoppers to tolerable mainstream. Organizer Kareem Khubchandani curates a drag show at midnight (and performs as LaWhore Vagistan), and if you care to chat with him, he's a complete sweetheart. This party's proceeds go to Haiti relief, DJ Sachin spins and there is a $5 suggested donation.