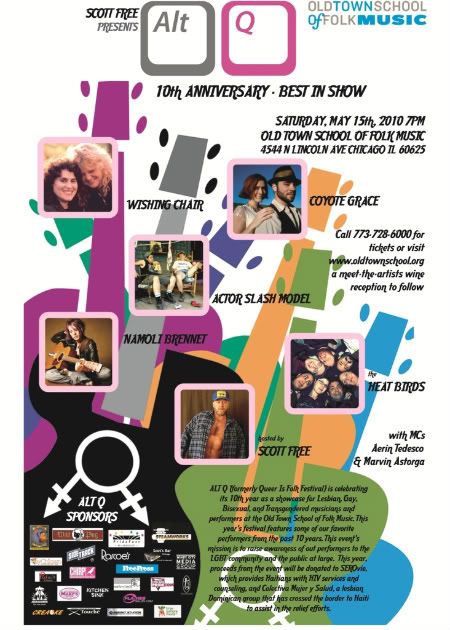 NEVER forget. In 2003, when Think Pink was a fresh-faced radio show with two lil DJ's that could, the first person to give us any official nod or kudo was Scott Free. Not only did it feel nice, but since I already knew the work that he did with (what was then) Queer is Folk and the weekly queer showcase Homolatte, it was like validation. To this day, running into Scott always brings a reassurance that Chicago is a hot-bed of activism and artistic support, and his giantess frame is balanced by his snuggle-bear demeanor. Alt Q has jump started so many queer musicians including Actor Slash Model, Chris Garneau, and Coyote Grace; it's also featured established out-performers such as Phranc and Grant Hart. This 10th anniversary show is a testament to Chicago's desire for its own queer Lollapalooza and one of the many examples of Scott Free's love of the Windy City. Hats off, Scott!!
From the press release:
ALT Q (formerly Queer Is Folk Festival) is celebrating it's 10th year as a showcase for GLBT musicians and performers at the Old Town School of Folk Music. This year's festival features some of our favorite performers from over the past 10 years. ALT Q is a celebration of the Lesbian, Gay, Bisexual, and Transgendered experience through music and performance. Featuring an evening of five performing acts, the event's mission is to raise awareness of out performers among the general public and the LGBT community. A meet-the-artists reception will follow the event. This year, proceeds from the event will be donated to given to the International Gay & Lesbian Human Rights Commission for relief efforts in Haiti. Funds go directly to two organizations –SEROvie, which provides HIV services and counseling, and Colectiva Mujer y Salud, a lesbian Dominican group that has crossed the border to Haiti to assist in the relief efforts. http://www.iglhrc.org
Scott Free presents:
ALT Q's 10TH ANNIVERSARY 'BEST IN SHOW'
Saturday, May 15th,  2010 7pm
The Old Town School of Folk Music
4544 N. Lincoln Ave, Chicago IL 60625
 
featuring Coyote Grace, Wishing Chair, The Heat Birds, Namoli Brennet, and Actor Slash Model. Tickets are available at the Old Town School of Folk Music website.