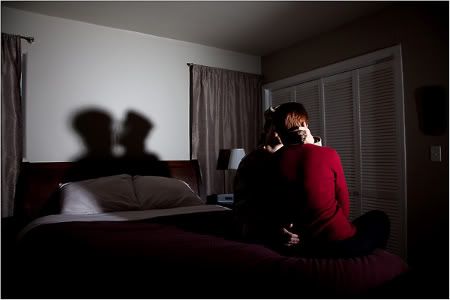 *Portraits of gay men and lesbians in the armed services, faces hidden, were taken by Jeff Sheng for his book, "Don't Ask, Don't Tell."
I can't really put into words the inspiration displayed by this anonymous, gay armed services veteran keeping an online journal. Ultimately, it's stories like these that put my cushy life into perspective and shed light on the privelage it is to "make art" or "complain." Here is the description, and some quotes below it. Read RD's journal entries here.
RD is the pseudonym of a 10-year armed services veteran recently returned from Afghanistan.  A psychologist and long-serving veteran, this officer had to deal with both the traumas of the troops in front of him, and the psychic wound of his own situation: the risk that if he spoke frankly about his life to any colleague, he could find himself ejected from the war and the army. 
"Moral laws do not force people to lie or pretend to be something they are not (a kind of lie itself). Even worse this law creates barriers between people and mandates a certain level of isolation and loneliness. It will drive me from the military. It is the main reason I am leaving the service when I return from Afghanistan. Despite a severe shortage of psychologists and two wars the military will lose me."
"…the religious fundamentalists in Afghanistan are strikingly similar to religious fundamentalists in America – who are also trying to force their literal interpretation of Holy Scripture onto everyone else through laws. While I served in Afghanistan the American "cultural war" exploded with California's Proposition 8 and the pending discharge of an 18-year decorated combat pilot under "Don't Ask, Don't Tell".
"One soldier stated the only way Command would ever realize how overstretched his men are would be if he started killing people. He then stated he was so angry he would kill his Commander and no one could stop him."