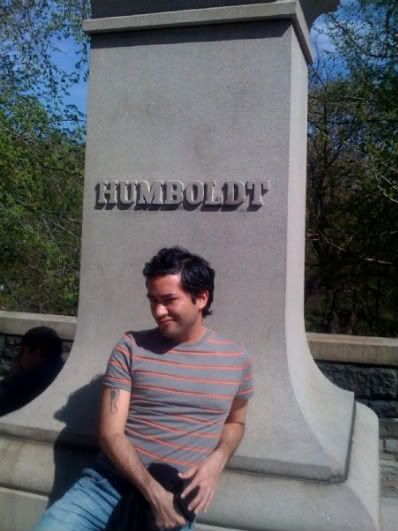 José Luis Matos is a Chicago ex-pat currently living in NYC and getting has Master's from the Chicago School of Professional Psychology. He's a huge fan of drama, and writes about queer happenings in soap operas and comic books for Think Pink Radio.
Best story: The saga of Kish, One Life to Live
Their love story was given the attention and respect that gaytime has been longing for!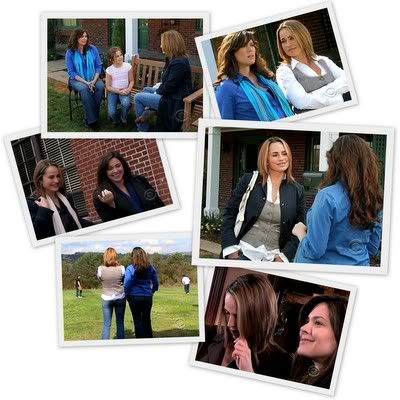 Biggest letdown of a story: The end of Otalia, Guiding Light
An organic love story with the potential to touch us all except that Otalia wasn't even allowed to touch each other! They rode off into the sunset with not so much as a kiss! For shame!!!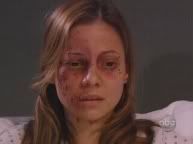 Worst story: -Tie-
Reese develops temporary blindness, All My Children
When Bianca left the show the writers decided to make Reese blind so that she would have to depend on her brother in law which would make his wife jealous. Clear example of not knowing what to do with the resident lesbian.
Noah and Luke battle the incestuous Pisces twins, As the World Turns
When Twins Zac and Zoe hit town I was excited because they were hot and Zac had the potential to give Nuke a run for their money with his flirting and sexual advances on Noah. But then Zac and Zoe were seen incestuously flirting with each other and they kidnapped Noah, because they wanted some treasure or inheritance from Luke that was rightfully theirs because Luke was really Zoe's cousin and Zac and Zoe were really boyfriend and girlfriend!?!?!?  This story was as convoluted as my last run-on sentence! Nuke didnt deserve such a contrived and pointless story and neither did the fans!
Best wedding: Kyle and Fish (they didn't actually marry but they "officially" became a couple at Nick and Kyle's canceled nuptials) One Life to Live.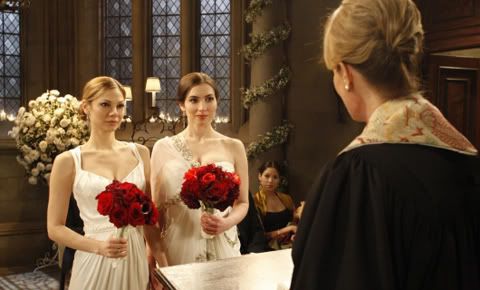 Worst wedding: Reese and Bianca, All my Children
The wedding was beautiful but Reese was kissing Bianca's brother in law days before (lame!) and  Bianca broke up with Reese the next day and left the show! What?!?!??!?!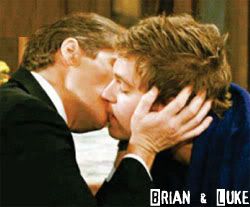 Most aw hell to the naw moment: Luke's and his grandmothers boyfriend making out! As The World Turns
Still in the closet Brian helped himself to his step grandson Luke! Luke exposed Brian as a queer and Grandma kicked Brian to the curb. Nuke honorably helped Brian come out of the closet and sent him packing. In a straight soap storyline Brian and Luke would've continued their little affair and gotten caught eventually in grand dramatic fashion and somebody would've gotten smacked real cute! (Pun intended)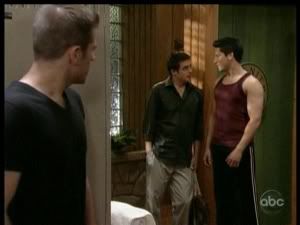 Best triangle: Kyle/Fish/Nick, One Life to Live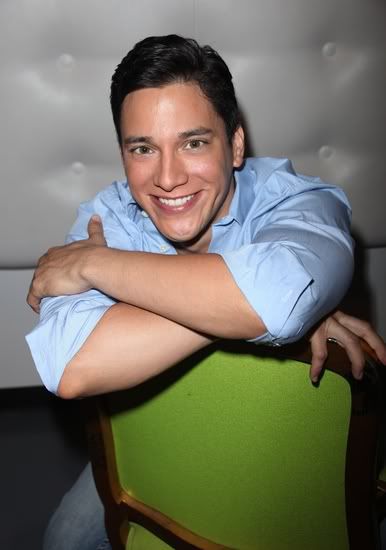 Hottest whole lotta man: Nick, One Life to Live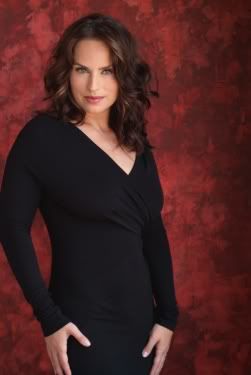 Hottest sexpot siren: Crystal Chappell ex-Olivia/ Guiding Light, Gina/ Venice the Series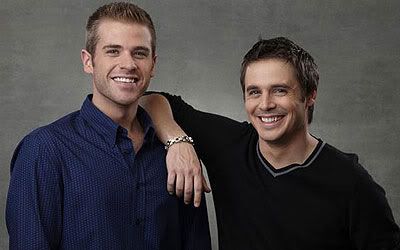 Best couple: Kyle and Fish, One Life to Live
Best behind the scenes queer moment: OLTL fires and recasts Patricia Mauceri (ex-Carlotta) with Saundra Santiago after she exhibits homophobic tendencies and requests the show re-write her characters pro-stance on Kish due to her own personal beliefs!
Biggest No he dint moment: Chris Engen (ex-Adam) displays his homophobia by quitting in the middle of big story because his character was scheduled to partake in some homosexual relations! Young and the Restless photo from perezhilton.com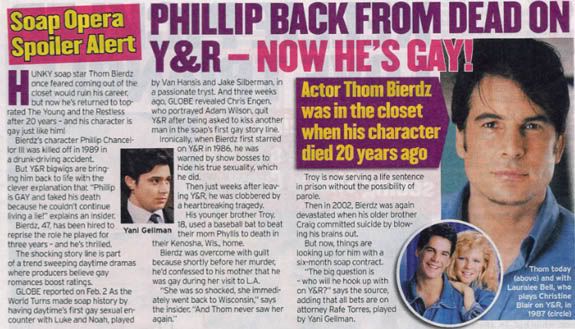 Biggest bootyclap reveal moment: Phillip Chancellor returns from the dead after 20 years and explains he faked his death because he is gay,Young and the Restless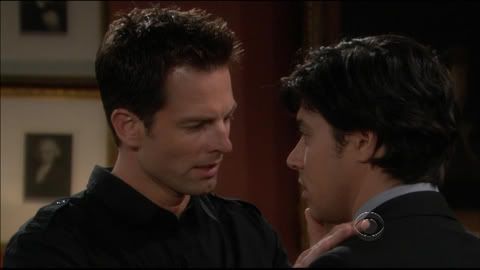 Hottest gay boy/straight boy fantasy moment: Straight Adam (Now played by Michael Muhney) seduces Gay Rafe to keep Rafe from uncovering/exposing Adam's dastardly deeds, Young and the Restless
Ok so we didnt get to actually see the sexual romp and the fallout was lame but it was still hot to fantasize about!
Best smack in the face moment: Gina and Ari's (ex-otalia, GL) make out fest in the opening scenes of Venice the series's first episode! Venice took it where the powers that be at Guiding Light were too afraid to go!
Best trend: Introducing more queer characters ( a new one is already scheduled to join the daytime ranks in the new year!)
Worst trend: Cancelling soaps that happen to also be the few with queer characters. Guiding Light and As the World Turns with One Life to Live rumored to be next on the chopping block!
Biggest harbinger of death for queer characters: Ellen Wheeler (recently hired as a current director on ATWT and  ex-Executive Producer director Guiding Light.
Soap queerdom's fairy godmother: Crystal Chappell (ex-Olivia Guiding Light/ Gina Venice the series) for advocating for Otalia, and creating Venice the series.
2009 award for "Aint no shame in they're queer supporting game": These straight soap stars showed their love and support for gays by participating in photographers Adam Bouska's "NOH8″ campaign. They have all been very vocal about their love for the gays and Michael Muhney had no problem playing out Adam's homo tendencies on Y&R, while Nadia Bjorlin recently joined Venice the Series as lesbian Lara. Keep showing the luv peeps! Micheal Muhney, (Adam, Young and the Restless), Brandon Beemer (Owen, Bold and the Beautiful), Ilene Kristen (Roxy, One life to live), Real life couple Brandon Beemer (Owen, Bold and the Beautiful), and Nadia Bjorlin (Chloe, Days of Our Lives/ Lara, Vence the Series).