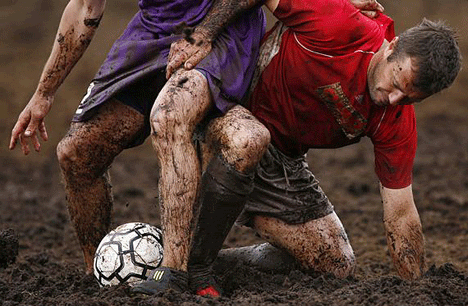 It started with me statusing this:
IF ONLY PEOPLE COULD SUDDENLY CARE ABOUT THE OIL SPILL THE WAY THEY SUDDENLY CARE ABOUT SOCCER!!! GOOOOAAAALLLLLLL
…and then went on to this:
PERSON #1
The oil spill is less entertaining to watch. I doubt people *don't* care about it, but soccer is a nice distraction from real life. We need those from time to time. How depressing would Facebook be if every post was "OMG BP OIL SPILL! BOYCOTZ!"?
can we get shirtless soccer guys to clean some birds on live tv?
you overestimate how much most Americans care about the world cup.
It would be kind of irritating to me. Facebook activism is frustrating at best. Doing something in the real world is what would be encouraging for me.
I agree with PERSON #1, if all I saw were groups to boycott or bitch I would tune it out. What would you like to see happen in terms of activism or solutions?
I think I disagree with that. Personally, I think I'm a very socially conscious person, as are most of my friends. I just don't think waving the "look what I'm doing" flag on the internet is worth it. I know that my politics tend to be way to the left of a lot of people, so I keep it personal. No need to advertise it on Facebook, because ultimately, the masses don't care and just scroll past it. It just seems like real life action is way better than Facebook activism.
I had similar feelings regarding the earthquake in Haiti — how so many rallied behind online fundraising efforts to text and donate money for the cause. I wouldn't necessarily say that spending capital to fix systemic problems is the best route either. I am, however, so happy that feminists taught me there are many routes to change and progress … See Moreand none are more 'right' or 'better'. Let's donate what money or time we can, and post on facebook, and clean birds, and stop buying gas at BP, and teach each other about histories and experiences, and rally in the streets, and be out and support each other.