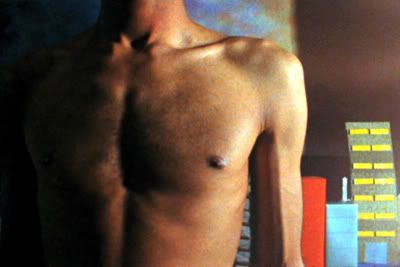 Queer Film Making. It's a concept/endeavor which declares humility. To make transgressive moving pictures that advocate for hope in the face of internal and external hostility is not only noble, it's urgent. Chicago-based film-maker Latham Zearfoss knows this, but he also knows that you can't successfully make a case for "feminist trespass" without having some technique, wit, or humor. Calls for action and protest will fall on deaf ears if you're constantly calling but don't have anything clever to say.
Trust Me: Selected Works by Latham Zearfoss provides us with an overview of these clever calls, showcasing films and installations from 2006 to the present. His life in Chicago, time as a student and love of music are front and center here – but instead of just providing autobiography, these details enrich his point of view that ownership of your identity (regardless of the advantage or disadvantage it gives) is crucial to your ability to communicate.Trust Me, as a title, is a cheeky reference to the favors we do for our community leaders and taste makers: without our trust, they wouldn't get very far. However, considering Zearfoss's position as a Chicago culture maker (Zearfoss founded queer dance circuit Chances Dances), it visits the question of colonialism— it's an easy trap to fall in when you have more access to be heard and you use it for another's voice. Other's fears and dreams can never become yours, you'll always just be the advocate. As a gay white cismale, Zearfoss uses film to explore his privilege while making the big ask to trust him. In Chicago's small community, the answer might seem like simple "yes." But if you consider that in 2010 you have Lisa Cholodenko's The Kids Are All Right and Bruce La Bruce's LA Zombie as opposing extremes of progress in queer film-making, Zearfoss's examinations of queer culture, religious indignance, and the historical context of our present problems are executed with an accessible and realistic perspective.
Which is not to say he isn't experimenting. Having a child re-enact Sinead O'Connor's infamous 1992 Saturday Night Live performance and juxtaposing it against another child faking an accent to read a 2010 Vatican PR statement about child abuse is more than just culture sampling. When the actors stammer or pause, their innocence is amplified to a deafening shock—the age-old desire to make the world a better place for future generations is obliterated by the realization that 18 years later, we've more or less failed. I Give You Life, with it's stark text, flapping red white and blues, absence of a visual narrator and warped soundtrack of Culture Club's "Do You Really Want to Hurt Me?" chases you like a restless ghost you into the room where Matthew Shepard's father addressed his son's murderer. The political momentum Shepard's death caused cannot be underestimated—his story is still an arresting part of our community's timeline. In I Give You Life, Zearfoss measures the worth of personal vs. judicial justice, thereby adding needed reflection to a civil rights struggle that is increasingly partitioned into self-important factions.
As a first show, Trust Me is pulled back to earth by Zearfoss letting us see how he's learning; there are student moments for sure. The length of audio segment World Peace featuring Jane Fonda drags the premise that feminism is a large part of world peace, and the last film, the animated fairy tale Myth of My Ancestors, leaves us with whimsy but not much else. Considering the depth of his other statements, World Peace and Myth work better on their own rather than attempting to close the show on an up beat. Regardless, Zearfoss's clearly communicates that as far as we've come with visibility and self-reflection, there is still a void that we can and should strive to fill. His wide lens is keenly focused on our humble steps in the march toward freedom, queer and beyond; things will get better if we keep rolling.
Trust Me: Selected Works by Latham Zearfoss screens
September 4th, 2010, 7pm and 9pm at The Nightingale Theatre, 1084 N Milwaukee Ave. $5 Admission, Q & A after each screening.