Chris Stedman's Top 10 Religious-Relevant Themes of 2009
December 26, 2009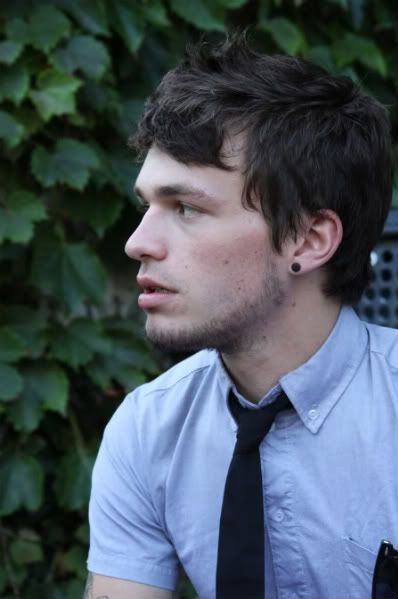 *Photo by Julie Maxwell
Chris Stedman is a Master of Arts in Religion student who works for the Interfaith Youth Core, a Chicago-based NGO that works to change the public narrative on religion from one of conflict to one of cooperation. Chris is a member of the American Humanist Association and voting member of the Secular Student Alliance, coordinates religious roundtables for Vocalo and is working on a post-graduate certificate in Spiritual Direction, making him the first self-identified non-religious individual to do so. He runs the blog NonProphet Status. [Editor's note, NonProphet Status now in the sidebar]

THE WORST
You Say "Muslim" Like it's a Bad Thing…
Islamophobia manifests in new and increasingly unusual ways these days. This year liberal enclave Switzerland passed a ban on the construction of minarets, an architectural feature of mosques, or Muslim houses of worship. The measure, put up for a popular vote by the country's conservative party, was promoted with hateful propaganda. Islam continued to be a target for conservatives in America, and the November shooting at Fort Hood in Texas by a Muslim man fueled this fire, prompting Pat Robertson to claim that Islam is not a religion. Entertainment retailer Best Buy wished Muslims a "Happy Eid al-Adha" in an advertisement and faced a boycott by the crazies over at the Free Republic while its other holiday wishes went unprotested. And despite continued belief to the contrary, President Barack Obama is still not a Muslim, though the investigation persists.
Pray the Gay Away!
Of course, Muslims weren't the only hated group in America in 2009 as queer sex continued to make religious conservatives nervous. For starters, gay exorcisms are still happening, apparently. Also shaking things up was the Evangelical Lutheran Church in America, the fourth-largest Protestant Christian denomination, which voted by a narrow margin to ordain individuals in committed same-sex relationships, threatening to split the denomination. A tornado appeared nearby during the vote and was seen by some as – of course – a sign of judgment from God. The Anglican Church also faced a possible split over the issue this year. Protestant denominations weren't the only to wrestle over the issue in 2009, and the Proposition 8 fallout continued for Mormons. (Oh well, at least the third season of "Big Love" was good this year, though it too courted controversy by revealing secret Mormon temple rites.) Meanwhile, Miss California Carrie Prejean lost her chance at the Miss USA crown by defending "opposite marriage" but, in spite of being "victimized by the liberal media" over some personal videos she made and being stripped of her Miss California title for failing to do her beauty queen duties, positioned herself as one of the most prominent opponents of same-sex marriage with a terribly-reviewed book and "opposite classy" appearance on Larry King Live.
The Separation of Church and Hate
Prejean's bosom buddies Sarah Palin and Michele Bachmann, part of an increasingly defensive political right, worked hard this year to build a platform on religious totalitarianism, and a lot of their colleagues followed suit. Bachmann, far removed from her days of hiding in bushes and kissing a Bush, took this year's crazy cake and is now the star of the Tea Bag – erm, sorry, Tea Party – Movement, frequently using religious language to justify her crazy conspiracy theorizing. This year Bachmann, who once called herself a "fool for Christ," specifically targeted fellow Minnesota Representative Keith Ellison's Muslim faith and criticized Obama for stating that America is not a "Christian nation." That's right, she publicly opposes the separation of church and state. Sarah Palin also continued to tap into the conservative religious base this year, while the father of her grandchild courted another base altogether. The more extreme parts of Bachmann and Palin's religious base, when not comparing health care reform to the Holocaust, wasted a lot of energy on license plates.
I'm Pro-Life… Unless That Life Belongs to a Baby-Killer
Thanks to this same conservative religious base, abortion continued to be a messy moral matter in 2009. In May, abortion doctor George Tiller was murdered while attending church. His killer called the act "justified," citing his religious belief that abortion is murder. Tiller, a long-time target of the religious right, did not live to see the renewed debate that ensued after his death. Abortion was also a hot button issue of health care reform. In Illinois, a parental consent law almost went into effect that would require physicians to inform the parents of teenage girls before performing an abortion; the law in on hold until at least next year. Also in Illinois, a Dominican Catholic nun continues to volunteer as an abortion clinic escort, upsetting fellow Catholics. Early in the year, Obama reversed a rule that prohibited U.S. funds from going to clinics that provide abortions or refer to places that provide abortions. Yeah, this issue isn't going away anytime soon.
THE BEST
Chugga Chugga, Chugga Chugga, Eboo: Interfaith Cooperation Gains Steam
In spite of all the divisive stuff above, it is a good time to believe in the idea that we should all just try our best to get along as interfaith cooperation gained serious traction this year, evolving this year from just a buzz phrase into a discernable movement. My boss, IFYC founder Eboo Patel, continued to spread the message of interfaith cooperation by being appointed to Obama's Faith Advisory Council, named one of America's Best Leaders by U.S. News & World Report, and awarded the 2009 Roosevelt Institute's Freedom of Worship Medal and 2010 Louisville Grawemeyer Award in Religion. Obama highlighted the necessity of interfaith cooperation in several prominent addresses, including his Nobel Prize address and his speech in Cairo. Former British Prime Minister Tony Blair promoted the movement through the Tony Blair Faith Foundation, and I busted my ass to put together an international interfaith conference here in Chicago for IFYC.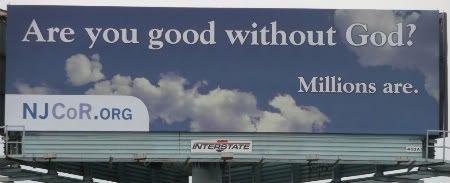 Godliness vs. Goodliness
One of the plenary speakers at that conference was Harvard Humanist Chaplain Greg Epstein, who also released a book this year, "Good Without God." He is part of a set of increasingly public voices that articulate non-religiosity as a viable life-stance – Secular Humanism – without trash-talking religion, in stark contrast to the anti-religious rhetoric espoused by folks like Richard Dawkins, Christopher Hitchens, and comedian Bill Maher. Obama acknowledged "nonbelievers" in his inaugural address, becoming the first American President to do so, and, to continue my self-promotion, I wrote a guest blog on respecting religion while remaining secular for the Washington Post. And though I may be famous in my own mind, I can't compete with Joss Whedon, who received a Lifetime Achievement Award in Humanism.
THE REST
All Former Child Stars Go To Heaven: Kirk Cameron Edition
"Famous" is a fairly open term, but it often does grant you a soapbox. 2009 was a good year to be a former child star turned religious wingnut as Kirk Cameron got even crazier, making everyone unexpectedly nostalgic for "Growing Pains." He launched a campaign to coincide with the 150th anniversary of Charles Darwin's "Origin of Species" that distributed copies of the book on college campuses. The trick is that the copies he hands out contain a special introduction that aims to discredit Darwin. Sneaky, eh? At least Cameron, who once famously offered up the modern banana as evidence of creationism, is trying to use historical facts this time, as much as he distorts them. Cameron's not the only one editing books – a project called the Conservative Bible Project was launched to remove the "liberal bias" from the Bible. Guess God didn't get it right the first time, then?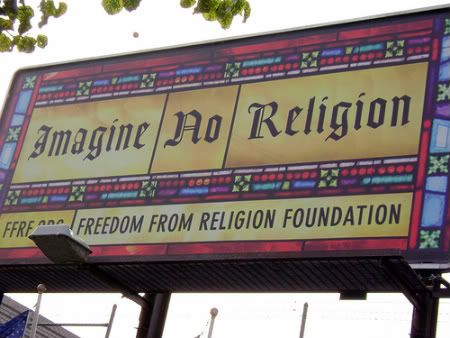 That Old Time Religion, It Ain't What It Used To Be
It seems that the folks behind the Conservative Bible Project aren't the only ones taking issue with traditional religiosity. Though the secular boom of the nineties is over, studies show that young Americans are "losing their religion" – the number of folks who do not identify with a religious tradition jumped by at least 25 percent in recent years. This data suggests, however, that this shift is not due to a lack of interest in religious issues. Rather, young people find religion as it currently operates to be outdated. Though I worry about our culture losing religion altogether, I find this study encouraging; besides the data that shows a growing open-mindedness to the beliefs of others, it is essentially an apologia for what I'm doing as a Humanist: "In the end… this 'stunning' trend of young people becoming less religious could lead to America's next great burst of religious innovation."
Sending God a Friend Request
Not all religious innovations, however, are great. Online churches, the latest e-trend, are on the rise in a big way. Seriously? What does e-church even look like? Instead of a collection plate, is there a PayPal link? How do you download communion? Can I get baptized in a chat room? I appreciate the internet as a means of connecting with others, but I feel like this is just a tiny step too far.
The Pope has an Opportunity to "Get All the Pussy…"
The ever-perky Sarah Silverman challenged the Vatican with a plan to end world hunger, though they've yet to take her up on the idea.
Legal Fine Print: The content of this list reflects the views of its author and does not necessarily reflect the views of either Eboo Patel or IFYC.
2 comments