Amos Mac's Best of 2009
December 26, 2009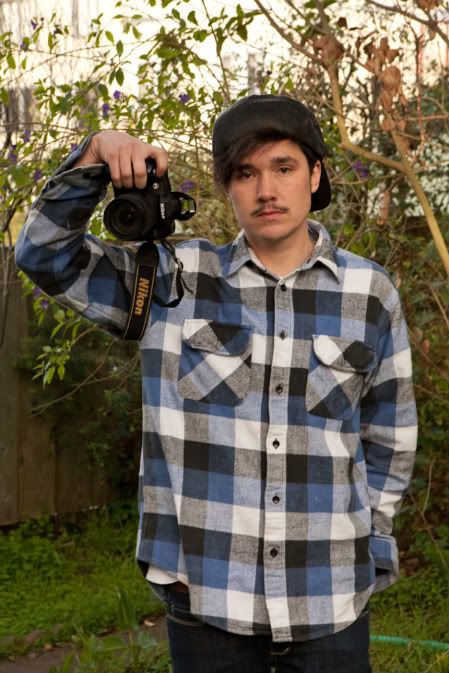 *Photo by D. Nicoletta
Amos Mac is a photographer who documents the queer community. He has shown his work internationally, most recently in Australia, and has been published on the pages of McSweeney's, Maximum Rock N Roll, the annual documentary photo book "Cutter", and does portraits and interviews for BUTT magazine's blog. He is the photographer behind Original Plumbing, the quarterly photo and interview-saturated print mag for trans guys. Original Plumbing is now in the sidebar.
10- Lady Gaga on my 30th fucking birthday : I just cringed when typing out the number "30″.  When I was in 4th grade my mother made me pick between going to THE New Kids on the Block concert at the Spectrum in Philadelphia, or having a birthday party.   I picked "birthday party" yet never forgave her for making me choose.  So when Gaga tickets went on sale and I saw the show was on my actual birthday, I of course was triggered yet realized that I hate birthday parties, especially for myself, and bought a pair of tickets for what is sure to be the most amazing show of the year. (www.ladygaga.com)
9 – Leaving America : I left the glorious continent in which I was born and raised in for the first time ever this past fall! I flew all the way to Munich by myself, passed out on an indoor hammock for 4 hours to deal with jet lag, then took 2 subways and a bus to meet up with Michelle Tea on Sister Spit 's first ever Eurotrash tour.  We traveled through Germany and France in a van, got ditched by our lunatic driver on the outskirts of Paris, flew to London and gallivanted around the English countryside, all while I promoted my transsexual magazine and showed slides of my work. (http://blog.sfmoma.org/2009/09/on-the-road-with-original-plumbing/)
8 – Ascots : So I was just in LA and I stopped at this vintage clothing store called Hubba Hubba in Burbank.  The woman behind the counter was a tad on the pushy side.. borderline bully status. As soon as I walked in the door she was all "you know I dress the guys from MAD MEN  and boy oh boy I wish they were YOUR size. You have that vintage size that the men had back in the day when these clothes were ORIGINALLY made! I know JUST the shirt for you. And hat! Don't forget the suit jackets right in the back. Fancy some wingtip shoes?" I left with an ascot. I love ascots. And to read more about the crazy shop owner, check out the link above.
7 – LOVE Magazine, Issue 2, Winter 2009
I love teens. And this issue was all about teens, fashion and fame. Amazing photographs and articles on teenagers like Rory Culkin, the Willis sisters, and an expose on the Disney machine.
6- The Day Michael Jackson Died & I Was Laid Off
Oh, June 25, 2009, what a dramatic day! I was killing time at my dead end desk job at a gay porn company when I learned (via 100′s of updated Facebook statuses at once) that my beloved Michael Jackson had passed away. Within seconds, I was called into my bosses office and told that due to the economy, blah blah blah, I was one of the next hand full of employees to get axed. I thanked my boss, still dazed from new the news of sweet Michael's passing. Enter #5.
It really exists. Thanks to the #6  (getting laid off from my job, not Michael Jackson dying) I was able to concentrate fully on an idea I had been toying with for awhile– putting together a photo-based magazine on trans male culture.
4- Latest Accent Obsession :  North Jersey. Specifically, comedian John Roberts. "Go turn on my tree."

3 – Kind Addiction : Fro-yo by the ounce at Icebee in San Francisco.
Pinkberry is so "Perez Hilton 2007″. With self-serve toppings from fresh kiwi to Cinnamon toast crunch cereal, I dare you to try and get a cup of Icebee fro-yo for less than $10.
Crazy man who drew cats in the 1920′s. Tattoo inspirations for life!

1 – "Nobody Knows I'm A Transsexual" t-shirts
A few years ago I thought it would be hilarious to make a t-shirt that says NOBODY KNOWS I'M A TRANSSEXUAL and in 2009 I did it, and I actually wear it, and you can too… if you give me $20.
One comment